Product List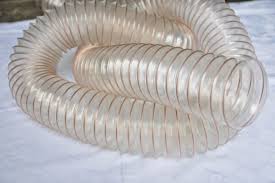 PU Duct Hose Pipes PU DUCT HOSE is made of abrasion resistant Polyurethane with copper plated spring steel spiral embedded into wall. Very light and extremely flexible hose with good tensile and abrasion strengths and ultimate elongation. Free of softeners, halogen free, physiological safe, cadmium free and excellent elasticity. Hose will also remain flexible below 0 Celcius.
Application:
Aspiration of dust, wood flour, shavings, granulate, powder, gases and fumes, Textiles, Plastic, Printing, Ceramic, Furniture and wood industry, shavings exhaust, chemical industry, paint industry, oil fog exhaust, machine manufacturing. Universal hose for transportation of light solids and for air and gas transportation. Being Food Grade material Can use in food & Pharmaceuticals industries. Ins. Dia./mm 32 to 350.
Temperature Range:
-40 C to + 90C (+ 125 C short term).