Rubber Sheets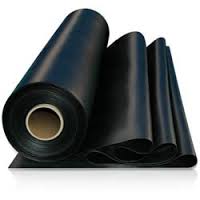 NATURAL RUBBER SHEETS
(WEAR RESISTANT/SHOT BLASTING RUBBER SHEETS)
NR or Natural Rubber Poly-isoprene is derived from latex liquid extracted from rubber trees. Originally cultivated in the Amazon region, it is now cultivated extensively in South East Asia, Africa and India. This rubber has excellent mechanical properties, low compression set and high resilience. It also has excellent dynamic and rebound properties. The operating temperature range is from -50° C to + 90° C.
In some areas, NR is compounded with SBR to increase the temperature resistance of natural rubber sheet.
Colors- Black/white/beige/any other color.
Main Properties
:- It offers excellent mechanical properties like high resilience, low compression set, high resistance to cut, tear and abrasion etc. NR also has excellent electrical properties.
Natural rubber sheets also offer resistance to many acids, alkalis and salts.
Main Limitations
:- Bad resistance to oil and organic fluid.
Applications
:- Application wise, they are used as skirt-board sheets, bridge bearing pads, shot blasting sheets, Chute Lining, High Tensile Tan Gum sheets and commercial sheets with & without cotton insertion etc. The NR rubber sheet is also used as food grade sheet if compounded especially.
Common Name
Chemical Name
Nomen-clature
Hardness Range
Low temperature resistance
Heat resistance
Tensile strength
Elongation Strength
Natural Rubber
Poly-isoprene
NR
Shore A 30 -90
-30° C
Max. Continuous -75° C
Max. intermittent-
105° C
Up to
200 kg /cm sq.
Up to 800 %
Specific Gravity
Thickness
Width
Length
Surface
Insertion
Packing
Compression Set
1.05-1.8 gm/cm³
0.5-6 mm
6-60mm
1.0/1.2m
1.0/1.2m
10 m
2.0/2.4m
Plain (smooth)/ fabric marked/patterned.
Possible –Nylon/cotton/polyester
Rolls/flats
Max.50% for 22hrs at 70° C