Product List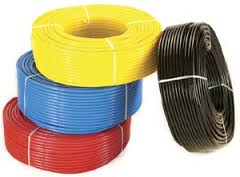 Paras Rubber fulfill all the tubing requirements of the customers. These tubing are offered in different technical specifications and provided at reasonable rates for the customers.





Construction:

Made of abrasion resistant PU (standard colour: Blue, Black, Red & Yellow.)



Applications:

Suitable for Fluid & compressed air, are widely Used in Industries like Automobile, Textile, Chemical, Food, Instrumentation, Pneumatic control system.In different region, It is known as different names like PU Tubes, Plastic Tubes, Plastic Pipes, Pneumatic Tubes, Engineering Pipes, PVC Pipes, spring pipes, plastic hose, plastic coil, air pipe, air tubes, high pressure pipes, pressure tubes, break pipes, air break tubes, non metallic tubes, etc.



PROPERTIES:

"Polyurethane Tubing" is extremely light in weight, flexible like rubber over wide range of temperature and due to its good resistance to shock & abrasion enables the user safe and easy manipulation of the machinery. It also resist to oil, grease, chemicals and ozone.