Product List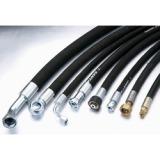 Application:
Rubber low pressure Hose India is used for steam, oil, air, water, acids, fuels and lubricating oils, conveying at low pressure.
Paras Rubber Hose India is a credible Rubber Hose manufacturer in India. We offers a wide range of low pressure Hose Pipe all over the world.
Construction:
Lining
: Synthetic rubber compound.
Reinforcement
: G.I. wire braiding.
Cover
: Designed with or without rubber cover. The cover have a synthetic rubber compound.
End Fittings
: As per Purchaser's requirement.
W.P. :Working Pressure, P.P. : Proof Pressure, B.P. : Burst Pressure, 1MPa : 10.2Kgf/Cm2 1Kgf/Cm2 :100KN/m2
Length : Mandrel made hose upto 20 mtr., Moulded braided hose in continuos long length.