Product List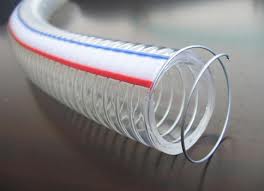 Application:
Thunder Hose is used for Deliveryy and suction hose for solid gaseous and liquid media. Used with vacuum pumps, agricultural machinery, construction industry, sewer cleaning, ground water drainage , non toxic, suitable for transfer of Food, Beverages and Refreshing drinks., suction and Deliveryy line for lubricating oil, Petrol Petroleum based products.

We are Thunder Hose Suppliers in India imparting a wide range of Thunder Hoses to the customers for various applications. These hoses are extremely reliable in performance, quality and durability.
Construction:
Made from flexible transparent PVC, embedded with spirally reinforced immovable spring steel wire. Inner and outer hose wall is smooth.
Salient Features:
Pressure and Vaccum resistant.
Smooth inside and outside wall
Good resistance to oils, bases and acids.
Good chemical resistance.
Highly Flexible
Non-Toxic (suitable for the transport of food)