Rubber Sheets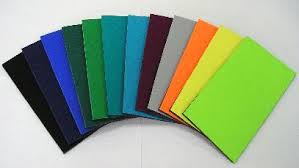 Neoprene is a family of synthetic rubber which is manufactured by the polymerization of Chloroprene. Neoprene displays good chemical stability and maintains its flexibility over a wide range of temperature.
Colors- Black/white/beige/any other color.
Main Properties
:- Neoprene is chemically inert which makes it preferred choice for industrial applications like hoses, gaskets and corrosion resistant coatings. It is also used as a base for adhesives, for isolation of noise in power transformer installations and as a padding in external metal cases to protect the inner contents of the consignment. It allows for snug fit of the consignment and resists burning far better than the rubbers made exclusively with hydrocarbons.
Applications
:- Neoprene rubber sheets are highly used in sealing applications like in sound studios, construction site, general/industrial gasket application & marine applications. It is also used for weather stripping in fire doors and to provide contrast in jewelery designs.
Common Name
Chemical Name
Nomen-clature
Hardness Range
Low temperature resistance
Heat resistance
Tensile strength
Elongation Strength
Neoprene
Polychloroprene
CR
Shore A 45 -80
-35° C
Max. Continuous -95° C
Max. intermittent-
120° C
Up to
135 kg /cm sq.
Up to 450 %
Specific Gravity
Thickness
Width
Length
Surface
Insertion
Packing
Compression Set
1.35-1.55 gm/cm³
0.5-6 mm
6-60mm
1.0/1.2m
1.0/1.2m
10 m
2.0/2.4m
Plain (smooth)/ fabric marked/patterned.
Possible –Nylon/cotton/polyester
Rolls/flats
Max.45% for 22hrs at 70° C